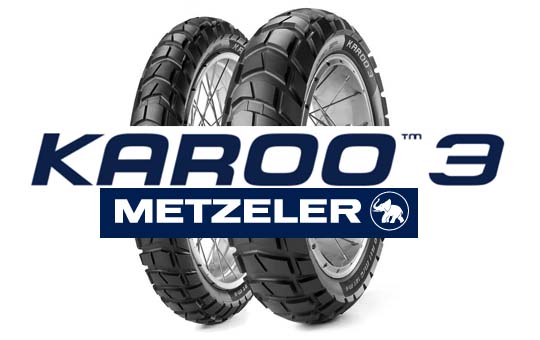 The Enduro on/off tyre for your adventures far and away.
A versatile product featuring rally-raid off-road traction and high speed stability with excellent mileage even fully loaded.
The latest generation of polymers blended in the compound lend a remarkable resistance to abrasion and knob tearing.
KAROO™ 3 has a great effective mileage in this segment and provides the 30% more durability than its predecessor MCE KAROO™ and MCE KAROO™(T).
Metzeler Karoo 3 https://mc-tyres.co.uk/?s=karoo+3&post_type=product
Metzeler Karoo 3 mc tyres
110/80 – 19 M/C 59R M+S TL
120/70 R 19 M/C 60T M+S TL
90/90 – 21 M/C 54R M+S TL
90/90 – 21 M/C 54S M+S TL
130/80 – 17 M/C 65R M+S TL
140/80 – 17 M/C 69R M+S TL
150/70 – 17 M/C 69R M+S TL
170/60 R 17 M/C 72T M+S TL
140/80 – 18 M/C 70R M+S TL
150/70 – 18 M/C 70R M+S TL
Metzeler site: https://www.metzeler.com/en-ww/products/tyres/karoo-3